To make your Aquarium more compatible with your fish, there are many types of aquarium filter media available in the market.
As there are many options out there, it may be difficult for you to choose the right media for your aquarium.
Here are the top six Aquarium Filter Media reviews just to ease your quest. Check out the reviews and pick the best one that fits your need.
Top Six Aquarium Media Reviews 2020
Marine Land Black Diamond Filter Media Premium Activated Carbon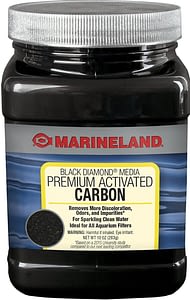 For clear sparkling aquarium water, it removes odors, discoloration, various impurities, and other chemical toxins. This Marine Land Black Diamond Activated Carbon is the best for your aquarium. It works quicker than other materials. It is formulated with the composition of heat-activated bituminous coal-based carbon and you find it in a jar form of tiny pebbles. It effectively filters out any contaminants found in the water in a speedy approach. It can work better than other brands, so it's economical to go for it.
Fluval External Power Filter Pre-filter media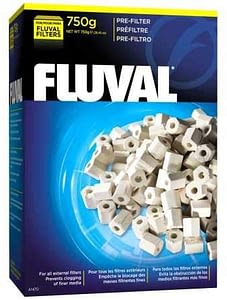 This Fluval external power filter will help break down fish waste and keep the sponges from getting clogged up sooner. This one is a good filter media to establishing a perfect environment to grow for a large population of beneficial bacteria, which helps to control ammonia and nitrate level. Just remember if you need to clean them off, make sure you are using the water from the fish tank. If you use regular tap water you have a high chance of killing all that good bacteria you worked so hard to get.
It's come loose in a plastic bag. You can place it on any media basket in any type of canister filter. You get a lot in the box, as they are about the size of a dime, so unless you have a behemoth filter you will have plenty of extra media. This filter media dose jobs and worth many for what you get.
Aqua Flo Pond and Aquarium filter Media

This filter media is so much easier to use for aquarium filters than the pre-made carbon cartridges. There are two layers, the white layer being more coarse for larger particles, and the green layer is finer to catch the smaller remaining particles. You can just cut this to size and stick it in. No need to change until it's falling apart. Just rinse it out a little in use tank water when it's dirty and put it back. When you need to replace it cut another piece put it in with one. This is a chemical-free product and perfectly safe for fresh and saltwater or even ponds. The role of filter media lasts a long time and it's very cost-effective.
Marineland Canister Filter Bio-balls

In general bio, balls aren't the best bio media for filters, but few of them are better than others and marine land bio balls filter media are very efficient and great add on deals too. These are great in the bottom stage of a trickle filter allowing for significant support of aerobic bacterial colonization.
This bio balls have to be cleaned quite regularly with a establish tank water for rinse away the buildup. Never clean with the soap or abrasive and never rinse with regular tap water.
Aquaclear Bio max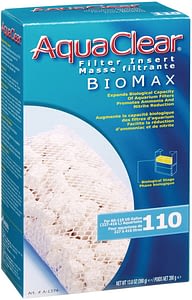 The Aquaclear bio max is a great biomaterial for your filter system. Quick and easy to use. It's made with tiny cylindrical shaped pieces of ceramic that come with a huge surface area that prepares to capable of increase beneficial bacteria. It helps to reduce toxins such as ammonia and nitrate levels. This Bio max filter media proudly increases biological filtration efficiency by 30%.
CZN Aquarium Filter Media Kits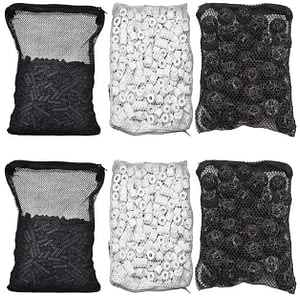 For proper filtration and healthy aquarium inhabitants, these CZN aquarium filter media are perfect and essential. To provide certified clean water in aquarium tanks this bio media filter takes advantage of all the three types of methods. The activated carbon of this media help to reduce high ammonia levels and different type of impurities and dose a huge contribution to clarify the tank water. The bio balls of this filter media rapidly increase the beneficial bacterial growth. But the carbon media of this filter is supposed to create a black mess inside the tank. The tank water may appear dreary when you first use it.
FAQS: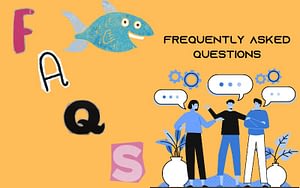 What is the best media for a canister filter?
Ans: There are three types of filter media in the market. they are – Mechanical, Chemical, and biological filter media. Within those categories, there are many styles of them some are good for the saltwater tank, some are for the freshwater tank, some are ideal only for turtles, some for fish, and some are doing well for both.
In practically mechanical media remove fish waste and some large particle, where biological media are home of beneficial bacteria and help to build a bacterial colony which reduces ammonia.
Chemical media are very effective at removing impurities like copper, chlorine, dissolved proteins, medication.
So if you want a good and perfect media for your aquarium, you have to choose a media which cover all those things mentioned above.
We recommend you to start with CZN aquarium filter media kits. Because it comes with all three Mechanical, Chemical, and biological media and surly it will provide you everything you need to start a healthy and promising aquarium.
what is the better media bio-balls or ceramic rings?
Ans: This is a common question come to most aquarium owners mind that, which one is better to filter media bio-balls or ceramic rings? Our answer is it depends on the necessary to understand because both are designed to perform differently.
These two filter media are designed to clean out two types of bacteria. One is nitrifying bacteria that eat ammonia and nitrates and another is denitrifying bacteria that eat nitrates.
There are things you need to know that bio-balls can only destroy nitrifying bacteria where ceramic rings can do both. Ceramic rings have small pores that aren't visual in human eyes, that why they basically increase their surface over time. The pores of ceramic rings are living house of bacteria and can be easily clogged than bio-balls where there is no real mechanical filtration and can create problems. Because of the clogged, ceramic rings need to replace regularly. On the other hand, bio-balls require only 20% of maintenance, no need to clean regularly and they last for a long time.
bio-balls are used only for biological filtration and they just catch and remove the waste. Ceramic rings also catch more waste but bio-balls are extremely good for denitrifying bacteria.
How often aquarium media need to replace?
Ans: Every media need to replace it in time for a healthy aquarium.
Mechanical media: Mechanical media are last in a long time, you can use this media until it falls apart, this media still work even not a good shape. If this media work properly you can keep it in your tank as long it's working and give your aquarium good support. When you see fish waste or any particle pass across, that means it's time for a new one to replace.
chemical media: Carbon media which is known as chemical media should need to changes a regular basis to make sure healthy tank water. Because your tank water may appear cloudy after use of 3 weeks.
Biological media: For bio-balls and ceramic rings, you can't replace the whole media at a time, and may replace only if they are falling apart. Because the beneficial bacteria grow their colonies on this media, so if you replace all of them at once you will lose all your beneficial bacteria and it will take a long time to regrow. so you have to replace these media only about one third at a time.
Let's watch a short video!
Final thought:
Yes! filter media are essential for a healthy and good looking crystal clear aquarium tank. But which one is better or perfect fit for your aquarium tank it will vary based on your tank specification. When you select your filter media, just one thing need to keep on your mind that which media will bring the most value to your aquarium. A good filter media can change the whole atmosphere of your tank and make a suitable living space for your fish.